Jean Ratelle is about as perfect a hockey player as there as we have ever seen. His professionalism and sportsmanship are as rare as his elite puck handling and skating skills.
While his road to the NHL wasn't the smoothest, but once he got there he quickly established himself as smooth operator. He split the first four pro seasons between the New York Rangers and the minor leagues. At one point while enduring a contract dispute he almost quit hockey to try out with the Milwaukee Braves baseball team.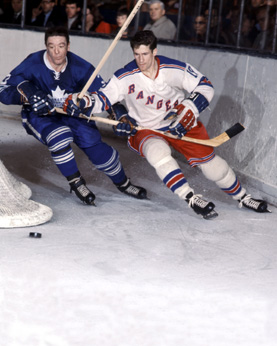 "Management in New York put a lot of pressure on me. They wanted me to play a more aggressive brand of hockey. But that just wasn't the way I played the game. So pretty soon I found myself down in the minors again."
Ratelle finally got his chance to stay in 1964-65 when an injury to Phil Goyette allowed Ratelle the opportunity he needed. Immediately he was reunited with childhood friend and junior teammate Rod Gilbert. Ratelle scored 21 times and had finally proved he was an NHLer to stay.
Ratelle - a lanky centermen from Quebec - instantly was compared to Jean Beliveau. But he was quick to dismiss that notion.
"A lot of people saw my style as similar to Jean Beliveau's" Jean said in the book Heroes & History. "He was one of my heroes, but everyone is an individual. I don't think you can really copy anyone even if you try. You might pick up a little mannerism when you're a kid, but I didn't do that."
In another book, Rangers Fever by Marv Albert, Jean said "In a sense I was flattered. But I was realistic about it and I knew that part of the reason was for publicity. I never patterned my style after Beliveau's. So I as far as I was concerned, any comparisons were just to give the publicists something to do."
Beliveau however did acknowledge that their playing styles were very similar.
"Sure our styles are similar. We both play very cleanly, we're pretty quiet fellows, and we both have a long skating stride and a long reach," he said.
"The way I see it, Jean Ratelle is the quiet leader of the Rangers. It's a mistake to think that a player has to be noisy in order to command respect and lead a hockey club. Jean inspires by his behavior - on and off the ice. He's a fine family man and an inspiration to the other players, especially the younger ones. He reminds me of my self in the sense that neither of us were flashy or noisy or were quoted saying anything controversial, and because of that it took longer to get recognized."
Ratelle would get recognition though, thanks in large part to one of hockey's greatest line combinations in history. Ratelle and Gilbert's reunion was the turning point in both players' magnificent careers. Rugged Vic Hadfield was added to the right wing to form one of the most dangerous offensive trios in the late 1960s and the 1970s. The trio was dubbed the GAG line - Goal A Game line.
"The New York Rangers "GAG" line that I centered between Rod Gilbert and Vic Hadfield played together for 9 or 10 years, possibly the longest any line stayed together in the history of the NHL. Rod and Vic were great players, so it was fun and we had a lot of success together"
In 1971-72 Ratelle produced 109 points based on 46 goals and 63 assists. It was the first time a New York Ranger broke the century mark of NHL scoring. He actually broke his ankle with 16 games to play so his totals could have been even more impressive. Hadfield managed to get 50 goals, while Gilbert fell just short of 50 as he too got injured near the end of the year. Had Ratelle and Gilbert remained healthy, it would have been a good bet that all three linemates would have topped 50 goals that one season!
By this time Ratelle had cemented himself among the league's elite, but he had already been known as the league's nicest gentleman and most respected players.
"Jean commands so much respect because of his ability and his style, it's impossible to get yourself mad enough at him to try any dirty stuff," once said Derek Sanderson. Sanderson was one of the NHL's top checkers. It was his job to get a top player like Ratelle off of his game by any means necessary, including by breaking the rules.
Brad Park was a long time teammate of Ratelle, and an admirer.
"Ratty (Ratelle) is without a doubt the model hockey player, totally dedicated to the sport and the team. He plays hockey according to the rule book and would never even think of elbowing or smashing a guy or doing anything physical. He's just a beautiful player."
Ratelle was part of perhaps the biggest trade in NHL history in 1975-76 when he and Brad Park were the key components for a Boston Bruin package which featured Phil Esposito.
"There were indications that something was going to happen with the Rangers early in the 1975-76 season, but like most players I never thought it would affect me. I had been with New York since 1960 so my trade to Boston came as a shock. I'm sure it was even more surprising for Phil Esposito to be traded to New York."
While Espo initially struggled, Ratelle continued his excellence in his new surroundings, breaking the 100 point mark for a second time in 1976. He also played important roles in the Bruins Stanley Cup runs in 1977 and 1978. He would continue his scoring prowess until his retirement in 1981.
"As it turned out, it was a great move (going to Boston) for me and my family, because I was able to play six more years in Boston. If Bobby Orr hadn't been injured, we probably would have also won a Stanley Cup or two."
Like pretty much everyone else in the hockey world, Ratelle was a big fan of Bobby's, but rarely got to play with him.
"Unfortunately, I played only 10 games with Bobby. I sat beside him in the dressing room, and he assisted on my first goal with the Bruins. He's still the best ever, as far as I'm concerned," he said.
Always a clean and gentlemanly player, Ratelle won the Lady Byng twice and the Bill Masterton Trophy once. He was also presented with the Lester Pearson Trophy for his strong season in 1971-72. However he was never able to win hockey's greatest trophy - the Stanley Cup.
"In the NHL, my team worked hard every year and in every playoff series, but I never won the Stanley Cup. For that reason, I can't look back and say that any one year was really satisfying. In the end, we lost."
If there was one year, it might have been his dream year 1971-72. Not only was he dominant in the NHL, but he was also named to the Summit Series for Team Canada where he scored 1 goal and 4 points against the Russians.